.
Welcome To
One World Fabrics
Last year, this was our most popular sale, so we decided to run it again, now through September 30, 2016
Don't wait!
All Aboriginal Design fabrics from M&S Textiles are on Special SALE!

Save $2.00 per yard on every Aboriginal fabric in stock.
Min. 1 yard cuts, limited to stock on hand

We carry 190 prints in gorgeous colors. Likely the largest selection of these prints anywhere in the U.S.

They are beautiful in quilts, but many customers use them for home decor projects and amazing one-of-a-kind clothing.

View our entire collection of M & S Textiles Prints

--------------------------------------

The Very Best Deal On Rotary Blades!
We offer bulk packs of rotary cutter blades. 45mm and 28mm
10 blades per pack
As low as $1.70/blade

--------------------------------------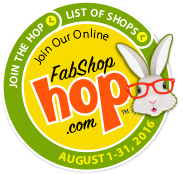 Join us for an online shop hop in August.
Just click on the "join the hop" link in the image above to find out the details.
You could win great prizes like trips, sewing machines, and shop gift certificates. And best of all, it's free to participate.

Our bunny is searching for 30% off sale fabric
--------------------------------------
Very Popular Book by Yoko Saito
Now Translated Into English

Traditional Block Patterns

We are so pleased to be offering Yoko Saito's recent Japanese published book on traditional and challenging block designs to the American Audience.
The English translation has been in the works for a while, and our friends at Stitch Publications have now begun shipping this edition.
The block designs in this book are unique and quite challenging. Many suggested projects are included with the block patterns for quilts, bags, wall art, etc. Full sized patterns are included in the large, fold out pattern sheet in the back of the book. The new format provides an attached envelope for this pattern page in the back, a great improvement from Stitch Publications.

We now have this book in stock.
Just click on the book cover or the link below to order.
Traditional Block Patterns by Yoko Saito
--------------------------------------
Daiwabo Taupe-ism Fat Quarter Collection
Daiwabo produces several lines of beautiful Taupe fabrics throughout the year, and Taupe-ism is one of the best. Vol. 7 of this line is exceptional with nature inspired prints in a wide range of color for the Taupe Palette.
Fat Quarters - 27 Pieces
This collection includes beautiful nature artwork, plus some wonderful marbled taupe prints with the look of stone. A great balance to use in any patchwork project. And it's from Daiwabo of Japan, producing some of the best quilting cottons in the industry.
Some of these colors have sold out in yardage, but we still have the entire print collection in Fat Quarters!
Taupe-ism Fat Quarter Collection
--------------------------------------
NEW FROM QUILTMANIA - "MY LITTLE JAPAN"

Fans of Japanese quilting will LOVE this new special issue from Quiltmania Publications.
Take a trip through Japan with an emphasis on quilting, textiles, art and crafts. Half of the issue is a stunning photo shoot of the Great International Quilt Festival in Tokyo for 2015, with pictures of the show, winning quilts, special exhibits, and more. With text in both French and English.
Visit Japanese gardens, historical Kyoto, artists homes, etc. If you are thinking of visiting Japan, this is a great place to start. Lots of ideas, and beautiful photography.
View more sample pages from "My Little Japan"
--------------------------------------
One World Fabrics has the largest selection of Aboriginal designed fabrics from M & S Textiles on the web.
We are adding to our mini packs of Aboriginal fabrics.
Six fat quarters each. We will be making these on a regular basis. The product pages for these packs lists the 6 individual fabrics contained in each pack.
These are the most recent 4 assortments we have put together.
Great for fat quarter quilts and stash collecting.

Watch for these! More to come.


--------------------------------------
We have expanded our selection of Tulip fine hand sewing needles from Japan. We now carry Milliners, Hand Quilting, Applique, and Piecing needles.

View our wonderful selection of hand sewing needles and accessories here.

--------------------------------------
Please take the time to browse through your favorite departments in our store. We add new inventory daily, so expect to find something fresh every time you visit. You will notice the difference in the care of packaging and how quickly you receive your orders from One World Fabrics.
We guarantee our products and services. Shop with confidence - if you ever have problems with an order we are here to help you Mon-Sat 9-5 (and frequently after hours as well).
As always, customers receive free shipping on all orders over $75 within the U.S. For our Canadian customers, we try to utilize flat rate packaging whenever possible to minimize shipping cost. Generally, modest size orders of up to about 6 yards (5.4 meters) of fabric, or perhaps 3 softbound books can be shipped in a padded flat rate envelope for around $20. Smaller shipments can sometimes be made to Canada using 1st class mail at a lower rate.
________________________________________________________________________
Binding Troubles?
Have you ever been frustrated trying to join the two ends of your binding together so they are smooth and flat? Want to try a method that creates a 45 degree slant seam that is perfectly sized and lays flat every time?? Here is The Binding Tool
So simple to use, and works every time. Watch the quick demo video . .

________________________________________________________________________
Save
Save
Save
Save
Save