.
Welcome To
One World Fabrics
Visit One World Fabrics's profile on Pinterest.
--------------------------------------
We hope you will participate in the Fab Shop online Holiday shop hop!
November 15 - December 15, 2015

You can win great prizes!

For more information, or to register, click on the button below that says, "Join The Hop"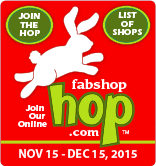 The bunny is looking for the best deal on fabrics

--------------------------------------
New Miniatures Department

Little quilts have always been a part of American quilt making, way back to the earlier pioneer settlers. Young girls would make doll quilts - miniature versions of their own bed quilt perhaps. Usually the same, or very similar patterns, but half or quarter size, made from all the little leftovers from their mother's sewing.
.
These are truly amazing quilts. The level of detail is impressive. They are fun and sometimes quite challenging to make, and very rewarding. Although the time required to make a miniature may be as much or more than a full size quilt, they do require less fabric, and are frequently an excellent way to use up all those hundreds of little leftovers from previous projects.
Visit our Miniatures department for several inspiring patterns, as well as tools to make these projects easier and very enjoyable.
Miniatures lend themselves very well to Japanese Taupe fabrics. The subtle color and value changes can be really lovely. And,we have lots of these fabrics available in fat eighth assortments - perfect for these patterns.

--------------------------------------
OMG! Beautiful new yarn dyed fabric collections from Haori Textiles.
Check these out!

Entire line of pre-cut packaged Taupe fabrics

--------------------------------------
One World Fabrics has the largest selection of Aboriginal designed fabrics from M & S Textiles on the web.
Just introducing our mini packs of Aboriginal fabrics.
Six fat quarters each. We will be making these on a regular basis. The product pages for these packs lists the 6 individual fabrics contained in each pack.
These are the most recent 3 assortments we have put together.
Great for fat quarter quilts and stash collecting.

Watch for these! More to come.


--------------------------------------
We have expanded our selection of Tulip fine hand sewing needles from Japan. We now carry Milliners, Hand Quilting, Applique, and Piecing needles.

View our wonderful selection of hand sewing needles and accessories here.

--------------------------------------
Please take the time to browse through your favorite departments in our store. We add new inventory daily, so expect to find something fresh every time you visit. You will notice the difference in the care of packaging and how quickly you receive your orders from One World Fabrics.
We guarantee our products and services. Shop with confidence - if you ever have problems with an order we are here to help you Mon-Sat 9-5 (and frequently after hours as well).
As always, customers receive free shipping on all orders over $75 within the U.S. For our international customers, we try to utilize flat rate packaging whenever possible to minimize the cost of overseas shipping. Generally, modest size orders of up to about 6 yards (5.4 meters) of fabric, or perhaps 3 softbound books can be shipped in a padded flat rate envelope for shipment anywhere in the world for US$23.50 or less.
________________________________________________________________________
Binding Troubles?
Have you ever been frustrated trying to join the two ends of your binding together so they are smooth and flat? Want to try a method that creates a 45 degree slant seam that is perfectly sized and lays flat every time?? Here is The Binding Tool
So simple to use, and works every time. Watch the quick demo video . .

________________________________________________________________________