.
Clearance Sale!
Save 30% On All African Wax Prints
In Stock

We have carried these beautiful African Wax Print fabrics since we opened, but it has become very difficult to get reliable shipments of them, so we have decided to discontinue these fabrics from our product line. All in stock African Wax Prints have been added to our 30% off clearance section. They are priced as little as $5.57/yard.
We request that you purchase minimum 1/2 yard cuts on these fabrics.
View all of our Clearance fabrics
--------------------------------------
One World Fabrics has the largest selection of Aboriginal designed fabrics from M & S Textiles on the web.
Just introducing our 5th assortment pack - 20 Fat Quarters
ABO-FQ-5


--------------------------------------
We have expanded our selection ofTulip fine hand sewing needles from Japan. We now carry Milliners, Hand Quilting, Applique, and Piecing needles.

View our wonderful selection of hand sewing needles and accessories here.


--------------------------------------
The Centenary XIX Taupe Collection from Yoko Saito is here. We have the entire collection of these beautiful fabrics from this premier Japanese designer, 17 beautiful yarn dyes cottons.
They are available as yardage, and we now have fat quarter bundles available. These are scrumptious!
This collection is only released once a year, and it is such a popular group. Take a look while we have everything in stock.


--------------------------------------
Join us during the month of September for the Fab Shop Network online shop hop. Win some fabulous prizes! Click on the logo below for more information.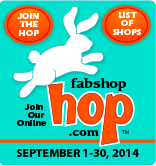 The FabShop bunny is learning to read in English.

--------------------------------------
Please take the time to browse through your favorite departments in our store. We add new inventory daily, so expect to find something fresh every time you visit. You will notice the difference in the care of packaging and how quickly you receive your orders from One World Fabrics.
We guarantee our products and services. Shop with confidence - if you ever have problems with an order we are here to help you Mon-Sat 9-5 (and frequently after hours as well).
As always, customers receive free shipping on all orders over $75 within the U.S. For our international customers, we try to utilize flat rate packaging whenever possible to minimize the cost of overseas shipping. Generally, modest size orders of up to about 6 yards (5.4 meters) of fabric, or perhaps 3 softbound books can be shipped in a padded flat rate envelope for shipment anywhere in the world for US$23.50 or less.
________________________________________________________________________
Binding Troubles?
Have you ever been frustrated trying to join the two ends of your binding together so they are smooth and flat? Want to try a method that creates a 45 degree slant seam that is perfectly sized and lays flat every time?? Here is The Binding Tool
So simple to use, and works every time. Watch the quick demo video . .

________________________________________________________________________