.
We love beautiful textiles from around the world. From West African tribal designs, to Asian Indigo . . . Aboriginal patterns from Australia to traditional Japanese fancy yarn-dyed Taupe, you will find it here. We specialize in Asian Natural/Taupe fabrics, and carry many manufacturers of this lovely genre. For those of you collecting Taupe fabrics, read about our Taupe Stashbuilder's Club . We are one of the few companies who package Taupe fabrics by color shades, making it easy to collect just your favorite color groups you love!

--------------------------------------
Beautiful Owl themed Japanese fabric panel includes 66 squares

--------------------------------------
We are now carrying a small group of Tulip fine hand sewing needles from Japan.

We have Sashiko needles, as well as general piecing, sewing, and applique needles as well.
View our wonderful selection of hand sewing needles and accessories here.


--------------------------------------
The Centenary XIX Taupe Collection from Yoko Saito is here. We have the entire collection of these beautiful fabrics from this premier Japanese designer, 39 prints and 17 yarn dyes cottons.
They are available as yardage, and we now have fat quarter bundles available. The prints and the yarn dyes FQ bundles are packaged separately. Both are scrumptious!
This collection is only released once a year, and it is such a popular group. Take a look while we have everything in stock.


--------------------------------------
Stitch Publications in Seattle has been working on translating many of the books of Japanese quilting celebrity, Yoko Saito, into English. Their newest book, just released at Houston Quilt Market, is Yoko Saito's Taupe Color Study Guide. This is her best book for those that want to learn about the nuances of the Taupe palette, and how to select and blend these fabrics into stunning projects. We have received our shipments of these books. Order your copy now!
Yoko Saito's Taupe Color Study Guide

--------------------------------------
Join us during the month of May for the Fab Shop Network online shop hop. Win some fabulous prizes! Click on the logo below for more information.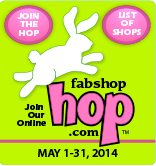 The Fab Shop Bunny is in search of the very best Applique pins on the market!

--------------------------------------
Please take the time to browse through your favorite departments in our store. We add new inventory daily, so expect to find something fresh every time you visit. You will notice the difference in the care of packaging and how quickly you receive your orders from One World Fabrics.
We guarantee our products and services. Shop with confidence - if you ever have problems with an order we are here to help you Mon-Sat 9-5 (and frequently after hours as well).
As always, customers receive free shipping on all orders over $75 within the U.S. For our international customers, we try to utilize flat rate packaging whenever possible to minimize the cost of overseas shipping. Generally, modest size orders of up to about 6 yards (5.4 meters) of fabric, or perhaps 3 softbound books can be shipped in a padded flat rate envelope for shipment anywhere in the world for US$23.95 or less.
________________________________________________________________________
*We stock over 100 Australian fabrics from M&S Textiles*
including there newest prints, and their classic best selling designs.
Click on the photos to see all of our Aboriginal Designs

_______________________________________________________________________
Binding Troubles?
Have you ever been frustrated trying to join the two ends of your binding together so they are smooth and flat? Want to try a method that creates a 45 degree slant seam that is perfectly sized and lays flat every time?? Here is The Binding Tool
So simple to use, and works every time. Watch the quick demo video . .

________________________________________________________________________