.
Welcome To
One World Fabrics
Holiday Closure Notice
We will be out of town over the President's Day holiday weekend, and our offices will be closed from noon, Thursday Feb 11-Monday Feb 15. Orders received during this period will be processed and shipped beginning Feb 16th. We appreciate your understanding. Should you need to get in touch with us, please use email steven@oneworldfabrics.com
NEW FROM QUILTMANIA - "MY LITTLE JAPAN"

Fans of Japanese quilting will LOVE this new special issue from Quiltmania Publications.
Take a trip through Japan with an emphasis on quilting, textiles, art and crafts. Half of the issue is a stunning photo shoot of the Great International Quilt Festival in Tokyo for 2015, with pictures of the show, winning quilts, special exhibits, and more. With text in both French and English.
Visit Japanese gardens, historical Kyoto, artists homes, etc. If you are thinking of visiting Japan, this is a great place to start. Lots of ideas, and beautiful photography.
View more sample pages from "My Little Japan"
--------------------------------------
Notice to our customers regarding shipping rates
The US Postal Service has raised it's rates effective 1/17/2016
Through the past two USPS rate increases, we have not increased our shipping rates, but this rate increase is substantial, and strongly effects commercial shipping rates around the country and overseas.

Customers within the US and it's territories, for an average order, will see about a $ .50-.75 increase in their shipping charges.
Remember that domestic shipping is still FREE on orders over $75.
International customers will see an increase of 10-20% in their shipping costs, depending on their destination country.
Those international customers wishing to receive a shipping quote prior to us shipping your order must request this in the order notes section at checkout. Otherwise, our policy is to ship the least expensive way via international priority mail.

--------------------------------------

Join us in February for the online shop hop!
Discover some wonderful online fabric/sewing stores
and possibly win some fun prizes!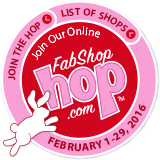 Look for the bunny hopping through our newest Taupe fabric seasonal collections
---------------------------------------
Check Out Our Clearance Department
We have recently added 60 bolts to our 30% off Clearance department. We have fabrics from Lecien, Quilt Gate, Henry Glass, Kobayashi, Kinkame, Westex, and Serenity from EE Schenck as well as others.
Click here to shop our Clearance Department
(1/2 yd minimum cuts on all Clearance fabrics)
--------------------------------------
OMG! Beautiful new yarn dyed fabric collections from Haori Textiles.
Check these out!

Entire line of pre-cut packaged Taupe fabrics

--------------------------------------
One World Fabrics has the largest selection of Aboriginal designed fabrics from M & S Textiles on the web.
We are adding to our mini packs of Aboriginal fabrics.
Six fat quarters each. We will be making these on a regular basis. The product pages for these packs lists the 6 individual fabrics contained in each pack.
These are the most recent 4 assortments we have put together.
Great for fat quarter quilts and stash collecting.

Watch for these! More to come.


--------------------------------------
We have expanded our selection of Tulip fine hand sewing needles from Japan. We now carry Milliners, Hand Quilting, Applique, and Piecing needles.

View our wonderful selection of hand sewing needles and accessories here.

--------------------------------------
Please take the time to browse through your favorite departments in our store. We add new inventory daily, so expect to find something fresh every time you visit. You will notice the difference in the care of packaging and how quickly you receive your orders from One World Fabrics.
We guarantee our products and services. Shop with confidence - if you ever have problems with an order we are here to help you Mon-Sat 9-5 (and frequently after hours as well).
As always, customers receive free shipping on all orders over $75 within the U.S. For our international customers, we try to utilize flat rate packaging whenever possible to minimize the cost of overseas shipping. Generally, modest size orders of up to about 6 yards (5.4 meters) of fabric, or perhaps 3 softbound books can be shipped in a padded flat rate envelope for shipment anywhere in the world for US$23.50 or less.
________________________________________________________________________
Binding Troubles?
Have you ever been frustrated trying to join the two ends of your binding together so they are smooth and flat? Want to try a method that creates a 45 degree slant seam that is perfectly sized and lays flat every time?? Here is The Binding Tool
So simple to use, and works every time. Watch the quick demo video . .

________________________________________________________________________